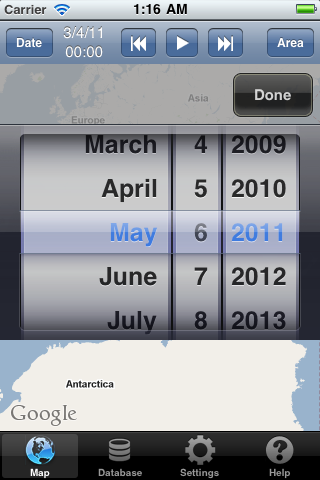 Updates: FootPrintz version 1.2-1 Released.
Footprintz 1.2-1 requires firmware iOS 4.0 or higher
Download: FootPrintz Version 1.2-1 Official
New Features In Version 1.2-1 :Version 1.2-1
Database change for 4.3.3 GSM applied to 4.2.8 CDMA phones
Fixed code-signing bug causing startup crashes on some phones
New setting to limit results by source accuracy
New user usage hint
Optimization to speed up tabbing back to Map view
Help updates / FAQs
Description

Requires iOS 4.0 or higher

If the news about iPhone storing location data on your device is concerning, or even if it just makes you curious, this app is for you! Use Footprintz to map the location history iPhone has already collected.

You can either search for where you were on a given date, or when you were in a given area. Playback location history on the map. You can also use Footprintz to either manually clear out your history, email it to yourself, export it to a spreadsheet file, or even insert random data (being watched, are we?).

No additional location information is collected by Footprintz. It simply shows you what iPhone has logged, which can be quite a lot! This does not rely on iTunes backups, and works directly off the data on your phone.

If you have 'untrackerd' installed your location data may have already been erased and this would render empty maps

Access (pruned) location history, even after upgrading to 4.3.3.

Supports iPhone, and iPod Touch (OS 4.0+).
Footprintz 1.2-1 Video Demo
Stay with us for more updates......