Updates : BackLiter Version 1.5.1 Released. Crack is out!





Version

1.5-1
*Added separate settings for backlight levels when charging
*Fixed code-signing bug causing startup crash on some phones

Download 1.5.1 : Official

A new one-touch utility app for controlling your phone's backlight levels. If you're the hard-core iPhone user, you try to get everything you can out of your hardware. That means keeping your screen dim when you don't need it bright, to save battery life. But, what happens when you move outside, and the ambient light swamps your display? Or you're in the car? And what happens, when you want to change the screen brightness quickly, and don't want to spend the time, or attention, to navigate multiple touches, and potentially a slider that's difficult to control precisely, even when you're sitting still?

Enter Backliter, a new app for iPhone from Enscand, Inc. Backliter is the simplest, most efficient backlight control imaginable. You use your device Settings to preset two brightness levels. One dim, one bright. Then, when you run the app, with one touch, the app toggles your screen brightness between those two levels. The app tells you what it's doing, and then closes itself. Literally, one touch!

You can even set your preferences so that the app doesn't even take the time to show you the message. It just starts, changes brightness, and quits. It can't get any faster.

Save yourself a few seconds of aggravation, a few times a day, for the life of your iPhone. We don't encourage you to use your phone while driving, but if you're trying to view Maps while waiting at a red light, you want to make your screen bright ASAP, see your maps clearly, and be done before that light goes green.

Backliter's change is temporary. When your phone's springboard (home screen) restarts, after unlocking your phone, your normal iPhone screen brightness level will return. This app is for when you want your screen bright for what you're doing right now, but then want to save battery the rest of the time.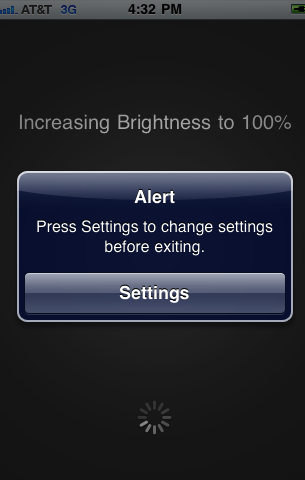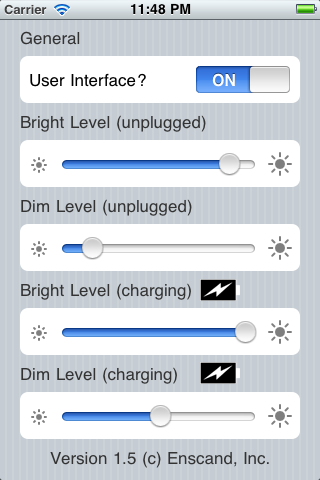 -------------------------------------------------
Previous Version
1.1 : Official
Stay with us for more updates........

If you like the post please share it...